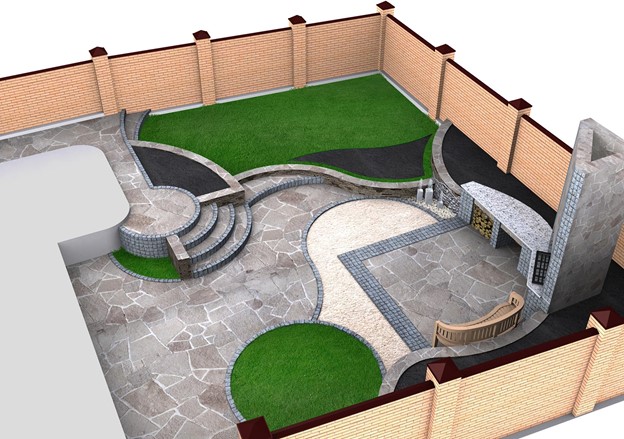 The great outdoors are calling now more than ever before, and creating preened, and well-curated green space outside your home enables homeowners to enjoy outside areas year-round. Yet, eye popping landscape design doesn't happen on its own. It's embedded in fundamental design principles, and excellent landscape arrays can impact your psychological well being and even increase your home value.
Adhering to notable elements of landscape architecture will make anyone's outdoor space pop. If you're looking to brainstorm ideas, start by finding the lines in your outdoor space and plan to accent them with plant life. Columns, fences, edges, fence lines, pathways, and porch endings are areas that can be played up nicely.
Lighting is always a must-have that will transform ordinary gardens and foliage into stunning private green areas. Keeping a common theme with both your interior and exterior design will create cohesiveness throughout your property. Deciding on some of the main characteristics of your space is essential, and the five design features below will add a special touch to any outdoor area.
1. Add Shade With a Shade Structure
If you live in a warmer climate, having a shaded outdoor space will serve as a decorative element and protect you and your guests from the sun. Adding both shade and shadow will add stunning design features and increase the functionality of your backyard. Beams and lattice structures can be installed for overhead shade but keep in mind that outdoor shade doesn't always have to be in the form of a roof or overhang. Using vines or larger trees along a fenceline will do the trick and add plushness to your green area simultaneously. Plant walls made from vertical gardens or wall planters are yet another way to add shade and separation in a creative way.
2. Firepits or Fireplaces Will Keep Your Space Cozy
Adding a fire pit or a fireplace to an outdoor area will help to promote maximum usage of your space year-round. Fire pits can be either above or below ground and used to keep warm, roast marshmallows, or purely for decoration. Adding a fire pit or fireplace will also create a second family room or den.
Depending on the type of fireplace or pit you have, a partial roof in this area will protect you from moisture. If you want a cozy fireplace experience, adding a rug, comfortable lounge chairs, and lighting will bring your space to life. If able to do so, adding misters, a sound system, and a ceiling fan will keep this area cool and usable even on warmer days.
3. Get Lost in Your Gazebo
There's a warm vintage flair and old-world charm that accompanies backyard gazebos, and finding the perfect place on your lawn to house this impressive structure is the first step. Whether small or large, a stunning modern or classic style custom gazebo adds charm, shelter and can be surrounded by vivacious plantlife. If you're looking for an ultra-modern twist on the gazebo, try its older counterpart that dates back to 1400 BC, the pergola. Pergola's work better in smaller spaces and come in a variety of shapes versus the standard octagon shape gazebos have.
4. Paths Lead to Magical Havens
Lavender lined, winding, or paths laden with garden trellis' are only a few of many path options that can be chosen for outdoor spaces. Using trees, various textured foliage, and paths that lead to hidden garden folies nestled in greenery create magical getaways where treasured memories can be created. Stone, gravel, grass, brick, sand, and tile can all make stunning pathways depending on the look and feel that you want. Grass paths are easy to create but require mowing. Stone paths are aesthetically pleasing, especially when it comes to creating a whimsical winding path.
5. Adding Aquascapes to Your Property Brings Vitality
Whether it's a pond, waterfall, or fountain, the sights and sounds of water have been scientifically proven to increase relaxation. Aquascapes come in a range of sizes and shapes and can be either below ground or elevated. Caring for waterfalls, ponds, and fountains require far less energy and chemicals than a pool, which makes adding in these precious pieces and even a few koi fish an easy process.
Conclusion Studies show that exposure to nature relieves stress and promotes wellness. Fortunately, luxurious outdoor escapes can be customized to each property and bring out the best in any home. Creating the perfect space to unwind takes time and attentiveness, but the impact of a well-architected private green space enhances quality of life and influences emotional well-being.