Casey's Proven Sales Process

In many ways, the selling of your home is similar to the selling of a product. From the moment you make the decision to place your home on the market, you are no longer simply a homeowner and a resident in the property. You must now view yourself as the seller of a unique and valuable commodity. The price of this commodity will be determined in the same way that other products are bought and sold.
1st
There must be a demand for your property given its condition and price relative to the current marketplace.
2nd
There must be viable and affordable vehicles for you to advertise your property in.
3rd
The potential buyers of your property must have easy access to it to allow them to inspect it as they shop for their most suitable choice.
4th
And perhaps most importantly, you must be willing and able to separate your personal and emotional ties to the home from the property itself.
Appearance
There is nothing like a good first impression to drive a sale. There is nothing more lasting than a bad first impression. Review "getting your home ready for sale" for more tips or "getting ready for the spring." Make a list of positive and negative features of each room and prepare to maximize the positives. Write down the finer points of the home and provide this information to your realtor to be used in creating promotional materials.
If you feel that there are major upgrades or changes that must be completed in order for the house to sell seek the advice of a real estate professional to get a second opinion before you invest your money on renovations. Unfortunately, in markets where there are more listings than buyers it is sometimes necessary to complete major repairs even though the cost will not be recouped through the sale of the house.
If your goal is to sell, you will have to do whatever it takes to make sure the house sells. Stay focused on the goal. The process of readying your house for sale requires a critical eye, an impersonal attitude, and in some cases, money. Do it right, and you will be rewarded by a timely sale!
Guidelines for Making Informed Decisions
1
When selling your home it is a good idea to let a real estate agent represent your interest and market your home. An estate agent can more often than not handle objections and concerns calmly, without emotion of personal involvement.
2
Potential buyers will also discuss price concerns more openly with an agent. These concerns may many times be easily dissolved as your agent can explain solutions by offsetting other benefits offered by your home.
3
To finance a new house most purchasers need to apply for a mortgage and as such money questions need to be asked. Serious buyers are usually more willing to discuss finances with a professional, which negotiate, on your behalf than with yourself.
4
Consider every offer and evaluate terms and conditions. The net effect could be an acceptable transaction with the added benefit of a faster closing date that relieves anxiety about an unsold home.
5
Avoid an urgent sale. Urgency translates into a compromise of price, terms and/or convenience. To achieve financial satisfaction when selling your home plan ahead. Time the marketing of your home so that you don't feel pressured to sell.
The Law of Agency
Have you ever wondered what the term real estate "agent" means? That single word – "agent" – has great significance, and does far more than just designate an individual who holds a real estate license. The real estate brokerage business is governed by a body of law called "the law of agency". The word "agency" refers to the relationship which exists "when one person is employed to act for another".
In real estate, the most common form of agency is when homeowners employ a real estate broker to act on their behalf to secure a buyer for the property. The term "act on their behalf" is important in that it refers to the broker's responsibility to look after the best interests of the owners.
Once homeowners have listed their home for sale with a broker, the broker becomes their agent. The owners become the broker's client (or principal).
The duties of the broker to the sellers include:
1. Loyalty
2. Obedience
3. Skill, care & diligence
4. Disclosure of information
5. Accounting
These duties are said to be fiduciary in nature, meaning that there exists a trust relationship between the client (usually the sellers) and the agent (the broker).
The broker, acting as agent, is obligated to be loyal to the best interests of the sellers, and obedient to their objectives, i.e. to perform brokerage services faithfully to the sellers' objectives. The broker is also required to use the highest levels of skill, and to carefully and diligently protect the sellers' real estate interests.
The broker's duty of disclosure relates to keeping the client informed. Because the broker's loyalty is to the client, the broker is obligated to disclose any knowledge in his or her possession about potential buyers, their intentions, their abilities to make a purchase, and changes in the real estate market in general. They are also required to provide a complete accounting of their activities, and of the final transaction itself.
Choosing the Right Price for Your Home
A "listing" is a contract that authorizes a licensed real estate agent to represent a seller in the sale of their property. The agreement outlines general terms, conditions, and commitments between the seller and the agent, including:
Price and terms
Duration of listing
Property description, including items that will transfer with the sale
Commission or compensation to the real estate agent
It is always wise to consult an attorney before signing any legal contract.
Price and Terms
The listing states the price at which the owners are willing to sell, as well as any other terms that are pertinent to the seller's situation. In selecting a price, the seller should review comparisons provided by the agent that review similar homes on the market, similar homes sold, and similar homes that were listed but did not sell. This "Comparative Market Analysis" presents comparable homes in a format that assists the seller in identifying a price range as well as an actual target price. It is extremely important that the price be set at a level that is close to or exactly at the point where the analysis, as presented by the real estate professional, indicates the home will sell. Many sellers make the mistake of setting a price that is too high, and the results are often very costly. Here are common assumptions made by sellers in selecting prices that are above market conditions:
Seller's Reasoning:
"Let's just try it at the higher price for two weeks, then drop it if we don't see an offer."
The Challenge:
This is the information age. You can safely assume that today's buyer is well informed and price sensitive. A property that is priced over the market will deter buyers who are serious about finding a property. If a buyer has to begin the negotiation with an offer that is way off the listed price, they can assume that their offer will be turned down or countered. They will look elsewhere where the chances of a successful offer situation are greater.
Seller's Reasoning:
"Let's just try it a the higher price for two weeks, and then drop it if we don't see an offer."
The Challenge:
When a home goes on the market, there are already buyers in the market who are actively looking. These individuals are eager to be made aware of any new properties listed. If the listing is overpriced but the buyer still has an interest in the house, he will either wait for the price to drop or will offer well below the listed price. Either circumstance is unfortunate for the seller. The seller is committed to holding out during this period of time just to test whether the higher price might work. In the meantime, their best buyer is either waiting for the anticipated price drop (and continuing to look at other properties) or is submitting an offer that the seller will reject while they wait to see who else is out there. The general rule, reinforced time and again with actual experience, is that your best offer is the first offer you receive.
Listing at a temporary price simply delays your sale. The market sets the price, so it is likely your price will end up the same regardless of your trying the higher price. What is lost with this approach is time.
Seller's Reasoning:
"We have all of the time in the world. Let's price it above the market and hope the market catches up."
The Challenge:
There are two issues at play here. First, the fact that the seller is not in a rush to sell, is no excuse for pricing the property too high. It still won't sell! Why not wait a few months, enjoy your privacy, and put it on when there is a need to sell. Houses that sit for months on the market acquire a reputation for being overpriced and not worth showing. People will conclude that there must be something wrong with it if it has been on the market for so long. Real estate agents will show the newer listings before taking their buyers to something that obviously does not beckon to be sold.
Second, it is never wise to set a price according to what a market might do. The things that effect real estate markets such as wars in other countries, stock market crashes, unexpected layoffs, and natural disasters are rarely anticipated but can dramatically shift home prices. Don't count on stability when selecting the price. Choose a price according to today's market and then adjust quickly as circumstance change.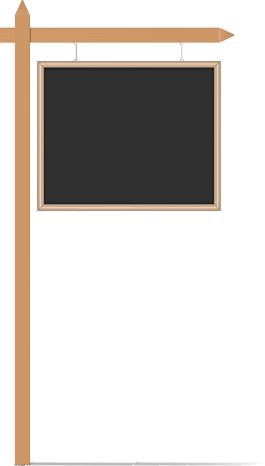 Why Use a Yard Sign
The yard sign is one of the most powerful marketing tools available to the home seller. This silent sales person offers seven-days-a-week, twenty-four hours a day exposure for the property. Typically, the sign will include phone numbers for interested buyers to call, as well as the name of the real estate company that has listed the house. Signs can also carry "riders" which can note unique features of the property not seen from the street, such as swimming pools, extra acreage, or outbuildings. The reason behind the successful track record of yard signs is very simple. Most buyers have already identified the neighborhood or type of house they would like to live in. When they are actively in the market looking for the right property, they will routinely drive through those areas that are appealing to them. The yard sign triggers they inquiry call, which often leads to a showing if not to an actual offer to purchase. In the event that the buyer does not proceed to an offer, they have at least given their Realtor a better indication of what they are looking for and have taken an important step toward narrowing the search.
How to Improve the Selling Time
Selling your home? How soon will it sell? Ten days? Eighty-six days? Three hundred thirty days? What factors can influence the time it takes to produce a serious buyer? When listing your home, ask your real estate agent for the average sale time in your neighborhood. This can be determined by averaging the actual number of days required to sell other homes in the same area over a set period of time, say the last six months.
Let's say that average is one hundred twenty days. What can be done to speed up the time it takes to attract a buyer? Plenty.
Three factors will affect the actual marketing time on your home:
1. Price 2. Terms 3. Condition.
If the condition of your home compares favorably to others currently for sale in the neighborhood, and you are offering comparable terms, your price may be adjusted to reflect greater value to prospective purchasers.
Because buyers comparison shop before making a decision, they will perceive greater benefits in your home at less money. This alone can cause buyers to compete favorably for your home. Terms are another factor that may be adjusted to attract buyers. If your home is priced fairly at "market value", consider offering seller financing at a lower than market interest rate on a portion of the sale price. Flexible terms may attract an entirely new group of potential buyers.
Condition alone can sometimes prompt fast buying decisions from impressionable purchasers. Consider upgrading your home by making major repairs and cosmetic improvements before selling. A home that sparkles with pride of ownership can trigger emotions resulting in an instant sale.
The key to a shorter selling time on your home is to offer one or more unique benefits to buyers. Be creative and you may enjoy an even faster sale.
The Difference Between Marketing and Selling
The next time you sell, how would you like every real estate agent in town working to find a buyer for your home? You can, by choosing a real estate agent who will market your home rather than selling it.
That may sound a little confusing at first, but there is a difference between selling and marketing a home. When an individual agent locates a buyer, shows your home and writes a contract to purchase it, that person has "sold" your home. Traditionally, homeowners have chosen an agent they felt would "sell" their home, someone with a history of showing and selling homes to individual buyers. Being only one person however, the number of possible buyers with whom they are working is limited.
Locally, there are numerous agents actively working with buyers. Individually, each may only be working with a few buyers, yet, collectively; they are working with every available buyer in the market. Wouldn't it be great if they were all bringing their buyers to see your home?
This can happen when you are represented by an agent who specializes in marketing. Marketing your home means exposing it to the entire real estate community. Rather than trying to find a buyer for your home, a marketing approach involves rallying the support of every sales agent in the area, making them aware of the features and amenities offered by your home, and encouraging them to show your home to many potential buyers.
Marketing your home can result in much wider exposure to a broad group of qualified buyers. The benefits can be an early sale at full price.
Marketing Through the MLS
A Multiple Listing System (MLS) is a membership organization that allows dues paying Realtors to input data about current listings into a local computerized system. That data is then made available to participating real estate agents in the area. Most MLS systems today are quite sophisticated, containing the information about the majority of listings in a given market area. Due to the fact that the MLS systems are facing increasing pressure to make their data available to the general public, it is impossible to generalize about what a MLS will offer to the public in any given community. In some areas, the data is already available for public inspection. In others, the only way to access the information is through a Realtor Member. And in a few locales, the MLS systems have not kept up with technology and is still in the format of printed books. So how can putting your listing in the MLS help you to sell your house? The key value to the MLS is that real estate agents with buyer clients rely heavily upon it as they search for suitable properties. There was a time not too long ago when the MLS was the only vehicle that offered a nearly complete database of local listing inventory. Most homebuyers located their properties by searching with a Realtor? through the MLS records. In many major and minor markets, this is still the case. It is likely that the MLS continues to be a major force in your local marketplace and that you should make every effort in insure that your home is represented in the database.
As each day passes, the Internet is offering the public new ways of searching for information that is important to them. Listing information is flooding the Internet, which is giving the public an alternative source for listing data. Many MLS systems are adjusting to this change by putting their real estate records directly onto the Internet.
Take the time to research your local market and learn just how the MLS is structured and how it is reacting to the influence of the Internet. Your aim is to get maximum exposure for your property. An MLS system that will promote your listing to local Realtors? while also placing your listing on the Internet for broader public exposure is doing just that.
Marketing in Printed Media
The value of print advertising varies greatly from community to community. For example, in many major cities, the newspapers run a special real estate section once a week that attracts listing ads as well as information about local real estate issues. It might make sense to run an ad only on that particular day. In other cities, the Sunday paper is the only place to look when shopping for Open Houses. And in other cities, there is no weekend paper which means that buyers who want to look on the weekend must pick up a weekday paper in order to see what is available.
Homes Magazines are now available in most areas. These colorful magazines include photographs of listings as well as information about the agents who are actively selling real estate. These can usually be found on display for free in supermarkets, convenience stores, and other high traffic public places. The cost of advertising in a Homes Magazine is generally less than that for a newspaper, where print space is limited and photographs are either not allowed or are extremely expensive to place.
In order to make this decision in your own marketplace, first look to see where everyone else is advertising. Which newspapers and magazines carry the most ads? Which ones have the greatest distribution? Which carry photographs? Which are used on weekends to highlight open houses and other promotional events? Which did you use (are you using) in your own search for property? Which does your real estate agent recommend?
Marketing on the Internet
By virtue of the fact that you are on-line reading this page, you are evidence of the growing power of the Internet in providing information to buyers and sellers of various products and services. Each passing day brings massive change to the quantity of data and choices that the general public can access in their search for knowledge.
There is a challenge today in using the Internet as an effective means of marketing your home. During a recent informal experiment using the major six search engines, when the key word "Real Estate" was entered, roughly 3,000,000 references were found. It is estimated that over 1,500,000 homes are listed on the Internet and that real estate agents and real estate firms now have over 100,000 home pages. That means you, the consumer, are lost in digital cyberspace.
It is estimate that approximately 10 Real Estate Web site account for more than 80% of all agent listings and consumer traffic. HomeWeb, the site you are currently visiting is generally considered one of those ten and was ranked by The Wall Street Journal as one of the Top Five in 1996 and 1997. Other good real estate sites include sites such as Realtor.com; CyberHomes.com; HomeScout.com and HomeSeekers.com. For the best directory of thousands of real estate sites visit www.ired.com.
So, what does homes on the Web really mean to the consumer? If you are a home-seller and you believe that the Internet could offer your home additional exposure, it means that you should explore ways of getting your property listed in an active real estate site. It also means that there is a big difference between getting information about your house onto the Web, and making sure that people who are searching for "real estate" actually come across the information about your property.
Furthermore many different sites, like HomeWeb, are committed to bring to the consumer an array of information on the homebuying and homeselling process. Information that you can access to 24 hours a day, at no cost. All in the hope that we can all improve the adventure of buying or selling a home an easier and more pleasant one.