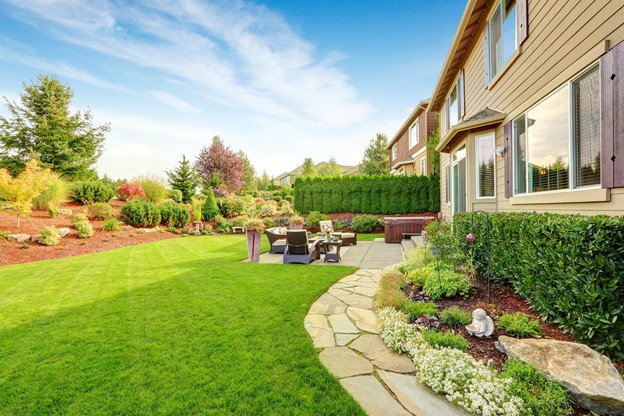 First impressions always stay with potential homeowners throughout the buying process, and the first section of any home that visitors come into contact with is always the outside. The outdoor areas of a home are filled with a world of possibilities, and staging this part of your residence correctly can be the clincher in selling your house to an interested buyer. Outside spaces are growing more and more important for home buyers, and staging an inviting private escape requires tapping into current trends that are at the pinnacle of luxury, style, and comfort.
The Devil is in the Details
When assessing what needs to be done to stage an outdoor area for viewing, take a good look at your space with a critical eye. Any faded, stained or broken furniture should be replaced, and everything should be trimmed and polished down to a shine. A healthy lawn is always a big plus. Taking time to remove weeds, dead plants, and making sure that your lawn is groomed will surely impress anyone that tours your home.
Adding in soft lighting will also help your outdoor space to stand out. Lighting can be in the form of candles, string lights, lanterns, and electric path lights. Putting your best foot forward goes a long way, which means that lighting up the fire pit (if you have one) and making sure that all of the features in your outdoor space stand out by adding final touches and elbow grease will maximize viewer experience.
Cleanliness is Critical
When we spend a considerable amount of time in any area, we tend to overlook messes and clutter. Yet, it's essential to ensure your outdoor space is clean when staging a home. This means that the grounds should be free of debris, and all outdoor features should be neat and grime-free. Scents and smells also enhance viewer experiences, so make sure that your outside area is as fresh as possible. Performing a thorough search for any dead wildlife, dead plants, pet excrement, or anything that can and does produce a pungent smell is important to remove as soon as possible.
If your house is on the market during the fall season, be sure to rake leaves and clear pathways so that potential home buyers can enjoy a full outdoor experience. Your outdoor area should be clutter-free, and anything that doesn't belong should be put away. Clearing out all lawn care tools, cleaning up toys, and sweeping away any remaining debris, mud, or stickiness on patios, balconies, or pathways is highly recommended.
Don't Overestimate the Convincing Power of the Pillow
Once you've thoroughly cleaned your outdoor space, adding final touches that illuminate comfort and warmth are more important than you might think. Adding a variety of pillows and throws can add a burst of color that adds luster to outdoor spaces. A simple pillow can make your backyard feel much more inviting and cozy, which is always a good thing when it comes to staging outdoor areas.
When picking out throw pillows for your outdoor area, seasonally appropriate designs that add color are an excellent choice. Playing with shapes can diversify your space even more, and it's generally a good idea to avoid animal prints or materials such as fur or leather for the outdoors.
Make All of Your Potential Homebuyers See Green
Plantlife in an outdoor space adds instant joy, and planting flowers, bushes, and adding in simple greenery can make all the difference in the world. Every plant either added or kept from an existing collection should look healthy, happy, and trimmed. Using fresh mulch will make your garden and plants look well maintained, which potential homebuyers love to see. Not all of your plants have to be planted in the ground. Adding potted plants to porch areas or window boxes can add significant final touches that your space needs.
If there is time to do a bit of light landscaping, playing with textures will impress any landscape enthusiasts that tour your space. Staggering long grasses with plants that have wider leaves will add plush features to your area. When planting new plants, be sure to pick out neutral greenery that is easy to care for. Vines, pothos plants, and palms are a few examples of many easy to care for plant species that look great and won't intimidate potential home buyers.
Conclusion
Cleaning outdoor areas, refining landscaping, and making sure outdoor furnishings are updated can profoundly impact a home that's for sale. For homeowners that may have trouble identifying potential hangups, asking a friend, family member, or your realtor to do a mock home tour may help to identify any areas that might have been missed. Outdoor spaces are quickly rising on homebuyers' most wanted list, and this once underestimated space may now be the one area that makes or breaks a sale. —
Abigail Baker is a writer for Viking Rentals, a fencing and event rental supplier.